Bellator Announce Welterweight Grand Prix Matchups, GSP Considering Move to Lightweight
Friday, August 10, 2018
Bellator MMA revealed the matchups and brackets for their upcoming Welterweight World Grand Prix, which is scheduled to begin on September 29th. The fighters participating in the Grand Prix include: Bellator Welterweight Champion Rory 'Red King' MacDonald (20-4), Douglas Lima (29-7), Andrey Koreshkov (21-2), Paul 'Semtex' Daley (40-16-2), Michael 'Venom' Page (MVP) (13-0), Neiman Gracie (8-0), Ed Ruth (6-0), Jon Fitch (31-7-1), Lorenz 'The Monsoon' Larkin (19-7-1), and Yaroslav 'Dynamo' Amosov (20-0).
All the Grand Prix bouts will air exclusively on the streaming service DAZN, who signed a lucrative multi-year deal with Bellator. This is a significant step for the promotion because they'll be able to air PPV-level fight cards on the streaming service, which is a very affordable price of $20 (1-month free) instead of charging $69.99 for each PPV like the UFC. With their fights airing on both Paramount Network and DAZN, Bellator are in a great position to attract more viewers to their product because DAZN also streams many other sporting events as opposed to strictly MMA/combat sporting events like UFC's Fight Pass.
Each fight will be contested in five 5-minute rounds, with Rory MacDonald defending his title each time he fights. The winner of the Bellator Welterweight World Grand Prix will be awarded the Grand Prix championship as well as the welterweight championship.
The 29-year-old MacDonald will have his hands full before his Grand Prix bout because he's scheduled to fight Gregard Mousasi for the Middleweight championship on September 29th. Depending on how much damage he takes in that fight, he may be at a slight disadvantage going into his welterweight title defense against Jon Fitch.
Bellator has been praised for their deep welterweight division and could gain significant interest among fans for this tournament. The opening round will feature the trilogy fight between former welterweight champions Douglas Lima and Andrey Koreshkov, who both have a win over one another; the long-anticipated grudge match between Paul Daley and MVP, who both dislike one another and are known for their knockout power; Neiman Gracie vs Ed Ruth; and Rory MacDonald defending his welterweight championship against Jon Fitch.
The alternate bout between Lorenz Larkin and Yaroslav Amosov will determine which fighter enters the Grand Prix in the event of an injury. This could be a great opportunity for the winner because they could also potentially receive a future title shot based on how they perform in the fight.
Georges St.Pierre Considering Move to Lightweight?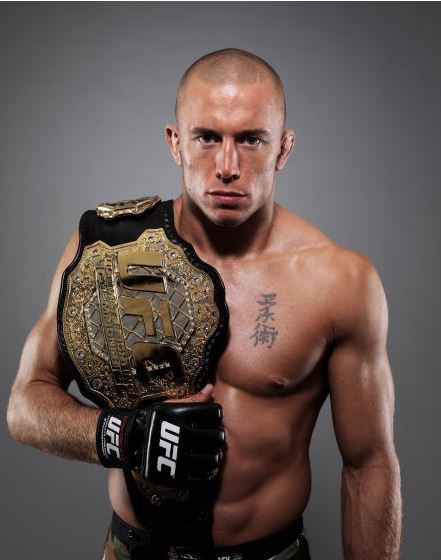 During an interview last week, former UFC Welterweight and Middleweight Champion Georges 'Rush' St.Pierre said that he wouldn't rule out a move down to lightweight and challenging the winner of UFC 229's main event between Khabib Nurmagomedov and Conor McGregor would be a possibility. The 37-year-old Canadian has teased a move down to the 155lb division in the past, however he never ended up making the move and chose to remain in the welterweight division, before challenging Michael Bisping for the middleweight championship in 2017.
At this stage of his career, GSP has been adamant about only taking big fights that would not only get him a big pay day, but also have an impact on his legacy in the sport. If Khabib retains his lightweight championship at UFC 229, I believe that would be the more enticing fight for GSP's legacy and the fans. Moving down to fight Khabib, who is undefeated in MMA (26-0) and viewed as unbeatable at 155lbs, could lure GSP into the division because it would be a risk worth taking. Both men have a similar skill-set in terms of wrestling and their ground-game, which is why I feel they match up better with one another.
If McGregor were to come out victorious at UFC 229 and challenges GSP, I think that could surpass both fighters' highest pay-per-view (PPV) buyrate because they are both popular athletes in their own countries and two of the biggest PPV draws in the history of the UFC.
MMA fans will have to wait and see what happens at UFC 229 in October, but if there's one think that is for certain, the UFC's 1st quarter of 2019 could include two massive PPV fights; Daniel Cormier vs Brock Lesnar and Georges St.Pierre vs the winner of Khabib Nurmagomedov vs Conor McGregor.
Feel free to drop me a comment or suggestion:
E-mail - giancarlo@BarnBurner.ca
On Twitter - @Gian_411
Photo Credit: @BellatorMMA and ufc.com
In addition to Barn Burner, I can also be heard on Beyond The Game, which airs 2-3PM EST every-other Friday on Vibe 105.5FM in Toronto.