WWE Super Show-Down Preview and Predictions
Wednesday, October 3, 2018
The WWE is bringing a massive event to Melbourne, Australia this Saturday that promises to be an action packed event featuring some of the biggest stars past and present. Super Show-Down will be headlined by the final chapter in the legendary rivalry between Triple H and The Undertaker. There are a total of ten matches advertised for this monumental event however, there are three matches that will determine the direction of WWE programming heading into the final months of 2018.
Triple H w/ Shawn Michaels vs The Undertaker w/ Kane
That's right, just when you thought the Hell in a Cell match at WrestleMania 28 was the end of this rivalry, you were wrong. These two legends may've competed in an end of an era match, but as Triple H pointed out a few weeks ago on RAW, their era is just getting started. No matter where these two are at in their respective careers, they still receive the biggest ovations from fans every time their music hits and they make their way to the ring.
WWE added more intrigue to this match by adding Kane and WWE Hall of Famer Shawn Michaels to the mix, which will surely add another dynamic to this long-standing rivalry between Triple H and The Undertaker that has been going on since the Attitude Era.
In the last couple months, BarnBurner's Joseph Peisich and Brad Shepard have stated that the plan for this Super Show-Down match is for it to lead to Shawn Michaels making his long-awaited in-ring return by teaming with fellow DX member Triple H to take on The Brothers of Destruction, Kane and The Undertaker, in a tag-team match at WWE's Crown Jewel event in Saudi Arabia.
With that in mind, Kane and Shawn Michaels both being involved at ringside likely indicates that they'll get involved in the match at some point, with one of them likely being the reason why their partner comes out the winner.
Since the Brothers of Destruction got the upper hand on RAW, I think that Shawn Michaels will be the one that costs Undertaker the match resulting in DX getting even and Triple H coming out victorious.
Prediction: Triple H wins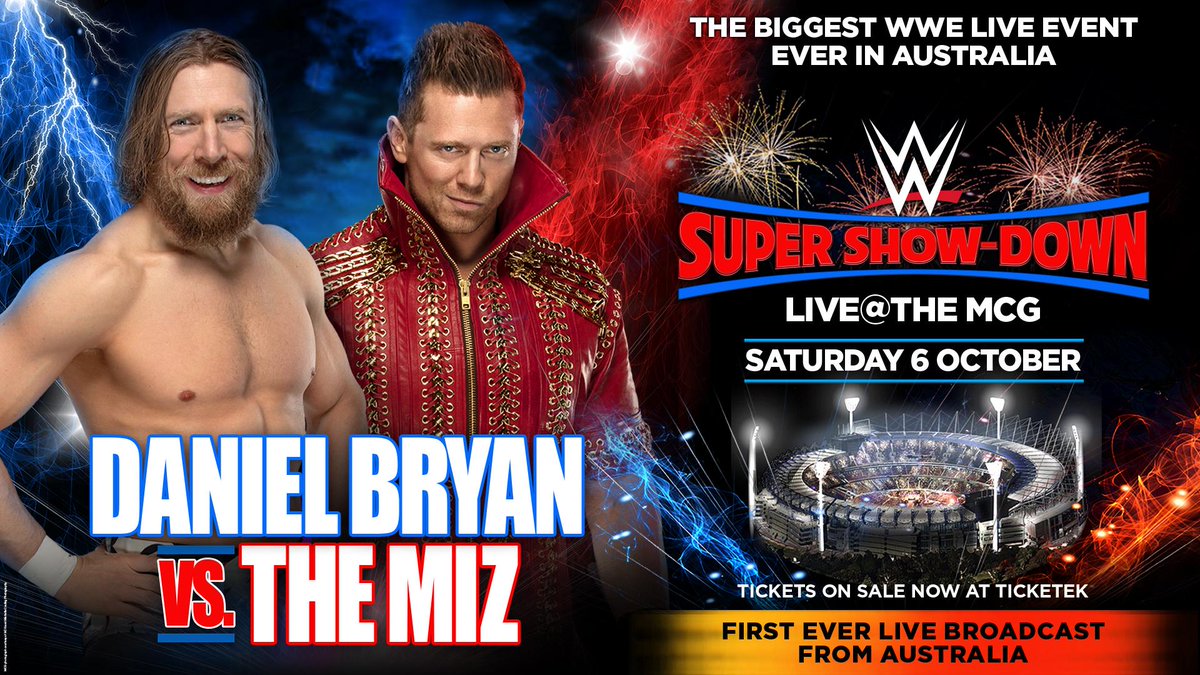 Daniel Bryan vs The Miz with the Winner Becoming #1 Contender for the WWE Championship
Another incredible rivalry that will be adding another chapter is Daniel Bryan and The Miz. These two have been going at each other for eight years and continuously find new innovative ways to freshen up their feud and leave fans wanting more.
The Miz has gotten the better of the leader of the YES movement in recent months, with victories at SummerSlam and Hell in a Cell. However, this match will have major implications because the winner will receive a WWE title shot against the winner of the AJ Styles vs Samoa Joe match.
This match could go either way because of how unpredictable their previous matches have been. Daniel Bryan seems to be chasing The Miz in an attempt to prove that his comeback isn't a bust while The Miz on the other hand is chasing glory in that he wants to be the focal point of Smackdown Live and reclaim the championship he hasn't held in seven long years.
I believe we will once again see The Miz go into his bag of tricks to defeat Daniel Bryan. I feel The Miz walking out of the Melbourne Cricket Arena as number-one contender would be the best scenario for Smackdown's product going forward because Miz being such a great antagonist heel adds an extra element to a potential feud with either AJ Styles or Samoa Joe.
Furthermore, a Miz title reign could mean that we eventually see Daniel Bryan challenge him for the championship down the road, which would make fans get behind him even more because it would make a memorable moment should he become champion again.
Prediction: The Miz Wins to Become #1 Contender
WWE Championship: AJ Styles (c) vs Samoa Joe in No Disqualification Match
The rivalry between AJ Styles and Samoa Joe has gotten a lot more personal in recent months. The challenger Samoa Joe has brought up AJ's family in promos, going as far as taking a trip to AJ's house.
The no disqualification stipulation has never been more appropriate for a feud than this one. In my opinion, AJ Styles vs Samoa Joe should've been contested in a Hell in a Cell match at last month's pay-per-view, but WWE have made up for it by adding the No-DQ stipulation to this match.
Everywhere they've gone whether it be TNA, ROH, or WWE, AJ Styles and Samoa Joe have continuously had excellent matches with one another and now it looks like they may be adding another classic matchup to their resume.
AJ Styles retained his title after being disqualified at Summerslam, and then again after defeating Samoa Joe in controversial fashion at Hell in a Cell.
The no disqualification stipulation, performers involved, and most importantly the buildup could all lead to AJ Styles and Samoa Joe stealing the show at Super Show-Down.
Prediction: AJ Styles Wins to Retain the WWE Championship and Feud with The Miz
WWE Super Show-Down looks like it'll be a very entertaining show with plenty of surprises and exciting matches.
Other matches on the card include:
The Shield vs Braun Strowman, Dolph Ziggler, and Drew McIntyre
Bobby Lashley and John Cena vs Elias and Kevin Owens
WWE Smackdown Women's champion Becky Lynch vs Charlotte Flair
WWE Smackdown Tag-Team champions The New Day vs The Bar
WWE Raw Women's champion Ronda Rousey and The Bella Twins vs The Riott Squad
Asuka and Naomi vs The IIconics
WWE Cruiserweight champion Cedric Alexander vs Buddy Murphy
Feel free to drop me a comment or suggestion:
E-mail - giancarlo@BarnBurner.ca
On Twitter - @Gian_411
Photo Credit: @WWE
In addition to Barn Burner, I can also be heard on Beyond The Game, which airs 2-3PM EST every-other Friday on Vibe 105.5FM in Toronto.