Toronto Maple Leafs vs Vegas Golden Knights Game Report Nov 5, 2018
Tuesday, November 6, 2018
The Leafs came into this one with a losing 3-5-0 record at home. So, naturally things had to change.
Connor Brown and Mitch Marner scored for the leafs, while Nazim Kadri added the empty netter to give the Leafs a 3-1 win over the Vegas Golden Knights on Tuesday Night at home.
Frederik Andersen made 36 saves in the win while Brown also had an assist.
At 5:30 of the first, Brown fired a quick shot up and over the glove of Marc-Andre Fleury for his second goal that helped snap a 10-game drought.
Marner scored early for Toronto, like 18 seconds into the second early, after John Tavares stole the puck from William Karlsson at the blueline before a pass to Marner, who beat Fleury over the blocker for a 2-1 lead, and his fifth of the season.
On the other end Fleury made 18 saves, while Cody Eakin scored the lone goal for the struggling Golden Knights. Shea Theodore blasted one from the point that Eakin tipped in past Andersen at 11:22 of the second. The Golden Knights outplayed the Leafs for much of the first two periods, outshooting them 29-16 through two periods, but it was Toronto who showed up on the scoreboard.
During the third period, Patrick Marleau had a chance to make it 3-1, off a pass from Kasperi Kapanen on a 2-on-1 rush, but his shot went wide.
For Vegas, the night went from bad to worse. Erik Haula, a top two centre for the Golden Knights, fell awkwardly on his right leg five minutes into the third, and was stretchered off. With the loss of Paul Stastny, who isn't scheduled to return for another month, things were not looking good for Vegas's offense. Then, with Jake Gardiner off for slashing, the 28th ranked Vegas PP unit went to work, but couldn't get past Andersen. On the other end, Fleury made stops on Marner and John Tavares before Andersen stopped Riley Smith with just under three minutes left.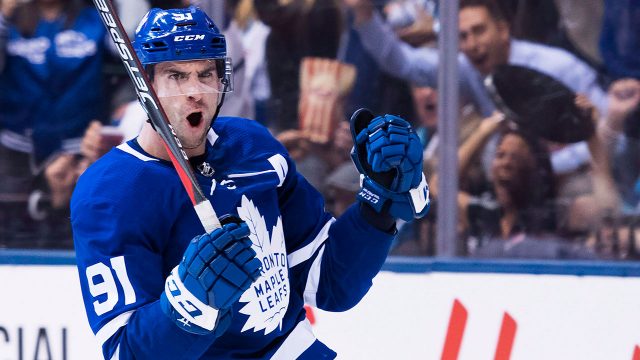 Then, with 34 seconds left in regulation, and with Fluery off for an extra attacker, after a battle at centre ice, Nazim Kadri scored his fourth of the season into an empty net for the win.