Henry Cejudo vs TJ Dillashaw Set for UFC 233
Friday, November 9, 2018
According to multiple reports, UFC flyweight champion Henry Cejudo will make his first and only title defense when he takes on current UFC bantamweight champion TJ Dillashaw at UFC 233 in Anaheim, California.
What makes this situation interesting is that the UFC will officially do away with the flyweight division at the end of the year, with some fighters already being released from their contracts. This means that if Dillashaw wins, he'll join the list of UFC greats that have won a UFC championship in two different weight-classes and will be known as the final UFC flyweight champion.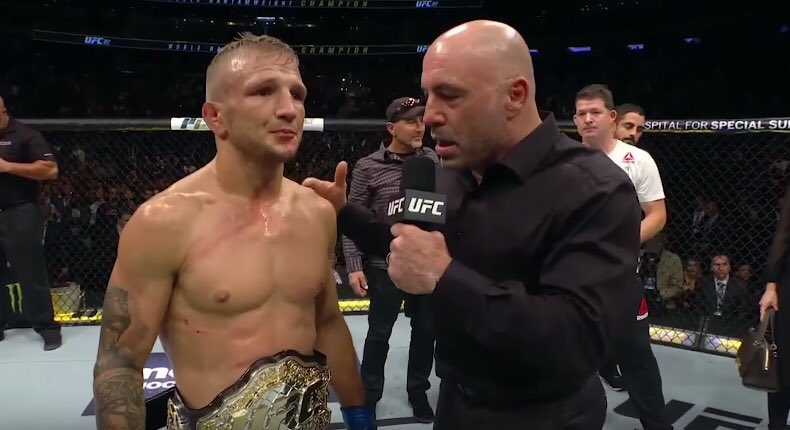 Dillashaw will coming into this fight on a four-fight win streak that includes back-to-back knockout victories over former Team Alpha Male teammate Cody Garbrandt while Cejudo on the other hand is on a three-fight win streak that includes his championship win over one of the greatest fighters of all-time.
If Cejudo is able to retain, the 2008 Olympic gold medalist would be known as the man who defeated both Demetrious 'Mighty Mouse' Johnson, the greatest fighter to ever compete in that division and TJ DIllashaw, a two-time UFC bantamweight champion. In addition, Cejudo retaining the title will likely result in the UFC setting up an immediate rematch for Dillashaw's bantamweight championship, which could be quite profitable for the promotion.
The timing of the event is also interesting because UFC 233 takes place on the same night as Bellator's Heavyweight Grand Prix final on Paramount Network, where Bellator light-heavyweight champion Ryan 'Darth' Bader takes on 'The Last Emperor' Fedor Emelianenko for the vacant Bellator heavyweight championship. In an attempt to gain more interest for their event, Bellator added rising MMA prospect Aaron Pico to the card.
With both the UFC and Bellator holding an event in the state of California on the same night, it'll be interesting to see what other fights both promotions have planned.
Feel free to drop me a comment or suggestion:
E-mail - giancarlo@BarnBurner.ca
On Twitter - @Gian_411
Photo Credit: bjpenn.com and @tjdillashaw